Ref:
Date:
Location:
Artist:
Ref:
Date:
Location:
Artist:
December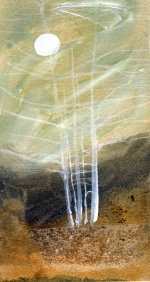 Lovely moonlight to shorten the darkest days. Frosted trees, blue skies, silhouetted branches, and after sketching in the chill a good reason to come inside to the stove for some mulled wine to warm and celebrate the season.
Creative workshops - drop in events for Christmas Creativity all ages 8 to 88! - younger folk can help an adult.
please get in touch for dates & times sessions run on Tuesdays Wednesdays Thursdays
First Saturday in December -
Christmas Fair
Felton Gallery45. I will be in my studio for the event - pop in and say hello.